Create an argument map of this simple argument:
Reason: The shadows in the Apollo pictures seem to point in different directions.
Contention: Artificial lighting was used when taking the pictures.
Note: for more information about creating argument maps, see the page Producing Argument Maps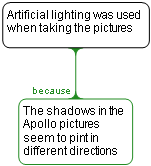 This simple argument has missing steps (see Tutorial 4).